Your Host ~ Julie Carrick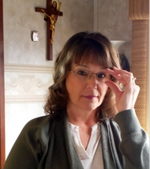 Host: Julie Carrick
We, Kurt and Julie Carrick, are excited to partner with the Guadalupe Radio Network to bring this wonderful Catholic Music program to the airwaves. Each week I have the privilege of interviewing and sharing the music of Catholic artists!! Click on the link above to listen live online or to find your local Guadalupe Radio Network Station. Make sure you ask your local Catholic station to contact us to be included FREE OF CHARGE each week. We will supply the upload for them!!!
---
For artists who would like to be considered for WSOF please tell us: Website, your Parish Name, and Your Diocese. Please note that all artists who are selected for the program will be asked to sign a simple statement agreeing they are living their lives, to the best of their ability, in union with the teachings of the Catholic Church. You will be able to share 8 - 9 songs and share with the entire listening audience all the details of your concert ministry! Note: This is a Radio Network made up of a number of stations across the U.S. This is NOT an internet show. The files are made available here only after the show airs live.
This Email link
is for Catholic Recording Artists &/or Song Writers who are interested in being featured on the Radio program 'We Sing Our Faith'. Please include your: Name, Email Address, Website, and Phone number.
Information we will need for each of your songs that we will use in your program:
Each track listing must include the following:
1. Name of Track as listed on the recording
2. Name of Artist as listed on the recording
3. ISRC as listed on the recording, or if unavailable, the combination of
both
the album name,
and
the marketing label as listed on the recording
The interviews will be done via telephone and will be recorded prior to airing.
The questions I would like you to consider answering are:
What part of your Catholic life of faith is most pronounced in your music?

Tell a little of how you heard and answered the call to share your gift of music.
(either as a writer, a singer/songwriter, concert artist, etc.)

Give a 1-2 minute of why / how you wrote / chose (if written by someone else) a particular song.

What was your most remarkable moment as a concert artist and what was your most humbling moment?
Once we receive your email, our office with schedule a time that works for both of us to record your interview.