"As always, The Lord used yours and Julie's gifts to inspire
prayer that leads to healing. Through word, song, and witness our people were
lifted up. The concert was nothing less than awesome and we can never be
sufficiently grateful for this marvelous gift." Fr. Jack Feehily ~ Moore, OK
Local voice soothes crowd recovering from deadly tornado
Ambria Hammel ~ The Catholic Sun - July 27, 2013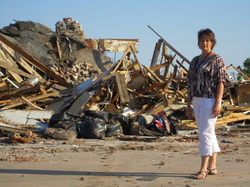 Julie Carrick tours the tornado damage.
Julie Carrick is halfway through her speaking and music engagements for the year with another 50 or so to go. The city names and layout start to blend in after awhile. ~ The people and their stories linger, especially from those she encountered this week. Their stories of loss, strength and hope could fill several books.
In some ways, those stories would be incomplete. The people of Moore, Okla. are only in the beginning stages of rebuilding after a deadly EF5 tornado — the strongest rating possible — hit the western suburbs of Oklahoma City May 20. The bulk of the devastation sits four blocks from St. Andrew the Apostle Parish. Church grounds remained physically unharmed, but area families can't say the same. It wasn't until Carrick visited July 21 to offer a free "Healing After the Storm" concert that they took time outside of Mass to cry and laugh as a group. "There was a seriousness and heaviness that wanted to be released," Carrick said.
Carrick, who was at the same parish on Super Bowl Sunday for an event several years ago, had certainly seen the people of Moore, Okla. in happier times. This week, she saw 200 hands raised indicating they were physically affected by the tornado and 150 go up indicating they lost their home. "This year's crops were a total loss too. The most efficient way to find and remove debris from the fields was by burning them", Carrick said.
I felt just overwhelmed," Carrick told
The Catholic Sun
. "I'm thinking they've lost their homes. They've lost their livelihoods. What am I going to offer them through music?" Then she remembered what music combined with testimony, and especially paired with the sufferings of Christ, can offer those who are hurting. She began to play the piano and sing one of her
title tracks
, "Here in the waiting I'm scared. I do not want to give in to despair. Help me cope. Help me hope." Many of the 350 who attended were brought to tears. They managed to join in as she sang Psalm 91 identifying God as their refuge and fortress. Carrick shared her own experiences of great loss and how she worked through them. "Suffering becomes sweet when we allow our suffering to be united with Christ's suffering," Carrick said. "They wanted to offer their suffering. They didn't want to be saddened by it anymore. They wanted to go out and find that purpose [to their suffering]."
The tornado took a 14-mile path through two counties, but locals are recovering and helping each other. Fr. Jack Feehily, pastor, describes it as "full recovery mode" in an updated letter on the parish website. Some are rebuilding. Some collected what remained of their belongings and moved to another part of town. Fr. Feehily's letter said the parish has helped 250 individuals and households with the hundreds of thousands of dollars sent by
"good neighbors…from all over the globe." Funds are also helping restock two schools that were destroyed and providing furnishings for residents.
Fr. Feehily asked for continued prayer. They're treasured and he ensured all donors would get a personal follow up.
"We are one body in Christ and we do not stand alone," reads a message on the parish bulletin board. Cards and letters surround it.
Carrick plans to return to Moore, Okla. next spring alongside her husband, Kurt, who organized the first event as a total gift to the people. Donors from across the country, including one with ties to Oklahoma, sponsored the Carricks' journey. Fellow vocal artist Doug Slater may join them for the next concert.
Healing after the storm
Tax deductible donations to help residents of Moore, Okla. recover from the May 20 tornado can be directed through Carrick Ministries Foundation, (501 C3)
www.CarrickMinistries.com
, (602) 787-1397 or to St. Andrew the Apostle Parish, 800 N.W. 5th Moore, OK 73160.
---
---
Loyola Press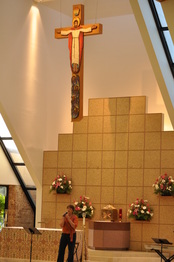 Singer Uses Vocal Chops to Catechize
Julie Carrick has a ministry she calls "catechetical artistry." The professionally-trained singer combines her melodious voice with her catechetical interests to evangelize at concerts, parish missions, workshops, and seminars. Julie works with her husband Kurt, a fellow musician, for Carrick Ministries Foundation, a non-profit they founded to continue their ministry of using music to help evangelize and catechize.
Though she began performing 18 years ago, it wasn't until 1999 that Carrick set off on the catechetical track when a proposed record deal asked that she not speak about her Catholicism. Instead of signing, Carrick said she felt led to a "deeper catechetical approach in an artistic manner." Today, she always mentions the Eucharist in her presentations. Carrick's concerts aren't designed as rock concerts, playing only to huge numbers. The Arizona-based singer travels the world giving concerts and missions in churches of all sizes, using her music as a "tool of the Holy Spirit."
Each of the events Carrick offers has an overarching theme. For example, "Living Our Catholic Creed," features
music, personal stories, and wisdom from St. Teresa of Avila to share how people can live the Creed in daily life. One of her favorite topics, "An Evening with Mary and the Apostles," includes traditional and contemporary Marian songs interspersed with sharing that encourages being a witness for the faith as Mary and the Apostles were.
Carrick also weaves her personal story with her faith. Carrick's performance, "In the Waiting," draws on her fight with lung cancer five years ago. Through her experience, Carrick said she learned how to find purpose and even joy in suffering. "In the Waiting" focuses on the theme of healing, and is dedicated to those touched by cancer and other serious illnesses.
Carrick travels about one-third of the year hosting events. When asked about her favorite moments, she shared that in Italy at the World Sings of Mary event, she experienced a powerful moment when she hit the high note in the song "Face of God," and everyone in the arena stood up with their hands lifted in praise.
Another favorite moment happened in a small town in Indiana. The Carricks arrived at the little church packed with a standing-room only crowd, with "such an energy in that room." After the evening's event, a couple from the crowd said they were inspired to start their own artful expression, with her needlepoint and his welding of religious statues.
Carrick is currently developing a theme of grace for a performance event inspired by St. Paul and the
Suscipe
("Take, Lord, Receive") prayer of St. Ignatius Loyola.
---
Julie Carrick sang her first solo at the age of 5. Since then, she has devoted her life and her music to Jesus. Even after surviving a rare form of lung cancer a few years ago, Julie continues to minister and share her faith with Catholics all over the world. We were recently blessed to once again host one of Julie's fantastic missions.
One thing you will notice about Julie is that she is humble and transparent. She shares freely of her own
pain and her own joy. Her music flows from a wellspring of experience throughout her life. ~ Robyn Dolan
We are so thankful for your visit to Immaculate Conception Church and We have been so blessed by your talent and warm- faith filled spirit. We have received comments on how your voice, the meditations on the Stations of the Cross and your shared life experiences have touched the parishioners of Immaculate Conception Church. Those who were not able to be there have expressed their disappointment. (we did pass them on to your website) We look forward to having you again and pray for your continued success in sharing and spreading the message of our Catholic Faith. Many Thanks, Be assured of our prayers
Fr. Sean Donnelly / Beth Martin / Kathy Woodworth / And Immaculate Conception Parishioners
Everyone thought the banquet was a great success. You did an awesome job. One of the comments I heard the most was that your message was a positive one. The people left feeling good about the issue. Even with some key individuals missing from the banquet due to travel, the pledges were up from last year. Thank you Lord!
And thank you Julie. / Dave Holzwarth - Central Kentucky Right to Life
Wanted to let you know that your witness and music still resound in our hearts! I have had emails, notes and personal witness from many parishioners who enjoyed your visit. Fr. Dan and I talked about you possibly coming during Lent of 2015, if you are anywhere near at that time. Again, we thank God for your gift and YOU for sharing it with us. I feel that you have touched us in a special way and look forward to seeing you again. Blessings on you, your family and ministry,
Debbie Miller / St. Louis Church Nokomis, IL
Julie is such a gift from God. She did a beautiful job here at the parish praising, worshiping, teaching, motivating and inspiring us all to learn, live and proclaim our faith. Thank you for sharing her. I wanted to write something that you may use to draw others to schedule parish missions, marriage retreats, pro-life gatherings, concerts
etc.,through Carrick Ministries. I plan on sharing this with the other parishes in our diocese. I pray it will bear fruit. You all do such an amazing job and I will pray for your ministry. Thank you so much for all you do! LeAnn

"When we are whom we are called to be, we will set the world ablaze" St.Catherine. This quote is a perfect
example of Julie Carrick. With the passion and fire gifted through the Holy Spirit, Julie travels the world sharing the message of Jesus Christ and his Church through her words and songs of wisdom. Julie is a gift from God to
the Catholic Church. Every fiber of her physical and spiritual being is rounded in love of Christ and His Church. Her beautiful gift of song is the vessel God has chosen to share his truth. She is the reminder that when you
lay your life down for God, you will set "your world" ablaze. Julie has presented her concert "Living the
Mass" and "Celebrating the Truth" to our parish and we are blessed because of it. God gives good gifts - accept the gift, invite her in and receive Grace. LeAnn Korsmeyer, St. Stanislaus Church, Wardsville, Missouri