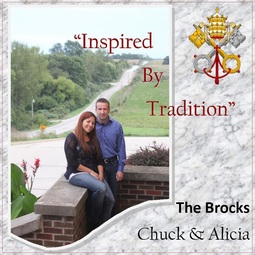 We are absolutely thrilled to support the ministry and work of Chuck & Alicia Brock.
The Brocks are now working on a new CD filled with the lyric of our favorite hymns:

"Inspired By Tradition" the lyric is familiar and the new melodies will melt your heart!
1. How Great Thou Art 2. Amazing Grace
3. Immaculate Mary 4. Sing of Mary
5. All Creatures of Our God and King 6. Beautiful Savior
7. Faith of Our Fathers 8. Surrender 9. Follow Me
​AND MORE

We are set to head into the studio March 11th - 18th in Brentwood, TN but we need your financial support to bring this project to reality. Please choose your donation amount below in increments of $25 or $100. If you would like to 'Sponsor A Song" the donation is $1200.00 That will completely cover the cost of the studio, mix, artwork and manufacturing the song.

Another way to assist both in the new Recording as well as experience an incredible evening of music we would love to schedule them for your parish!!!
Please give us a call for one of the very few dates available for this grace filled duo!!!
​(602) 787-1397 or toll free (888) 880-6974.

Thank you for supporting the ongoing work of all of our artists.
Your generosity makes much of our work possible.
We have simplified credit / debit card donations in $25 or $100 increments.
Be sure to state The Brock's ministry &/or project is the one you are donating to.
We will provide you the tax deductible receipt and get the funds to them immediately.

Thank you again, and may God bless you.
---
If there is an amount you would like to donate that you do not see listed above, please call us:
(888) 880-6874.

You can also mail a donation of any amount directly to:
Carrick Ministries Foundation
PO Box 13896
Scottsdale, AZ 85267.