We have a two 'Our Lady Undoer of Knots" devotional items for you.
A specially commissioned Rosary & Novena
and a music CD including the song 'Undo the Knots' (16 Marian songs in all)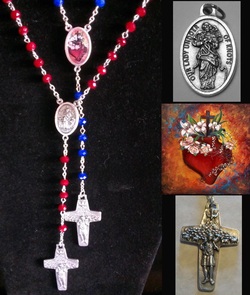 This beautiful Rosary was commissioned with some very meaningful images honoring Mother Mary, 'Our Lady Undoer of Knots'.

It was designed by Julie Carrick after recording her song "Undo the Knots" on "Lend Me Your Heart". ~ The center medal has this image of her on the front, and the "Hearts Entwined" painting on the back. (The Immaculate Heart of Mary & The Sacred Heart of Christ as one combined image.) By Artist: Cyndy Carstens

Note: On the medal of Our Lady Undoer of Knots, the ribbon of our life is laid over her shoulders. On Pope Francis' cross note that the lamb that was lost (but now found) is laid over the shoulders of Christ. The Red beads represent the Sacred Heart of Jesus. The Blue beads represent the Immaculate Heart of the Blessed Mother.
---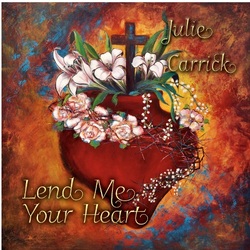 16 Songs Honoring the Woman who brought our Savior to us.
9 NEW Marian Songs! New Marian Music...
Lend Me Your Heart Ave Maria (As I Kneel) The Center of His Heart Sing of Mary ~ Heart of Jesus Woman of Sorrow, Woman of Joy Held Within Your Heart
From Mother to Mother Bring Flowers of the Rarest
Undo the Knots As The Deer
On This Day, O Beautiful Mother I Thirst For You
Heart to Heart Ave Maria (Schubert)
The Lord's Prayer Mother, In the Order of Grace

Inspired by "33 Days to Morning Glory" by Fr. Michael Gaitley & from Fr. Mitch Pacwa "Mary; Virgin, Mother & Queen" and lastly "Mary, Undoer of Knots" a favorite devotion of Pope Francis! A True Blessing!!
---
You can order Your CD & Rosary Right here or visit our Webstore for all of our CDs / DVDs / Songbook.