Our Mission Statement:
Evangelization & Catechesis of the Catholic Faith utilizing Music, Personal Witness, and other artistic media, guided by The Bible, Tradition & Magisterium of the Catholic Church.​

So much more than concert events or parish missions, it is truly opening the heart to receive God's word.
​


​"Can My Heart Conceive... It is Him I Receive

"I Take You At Your Word"

"Intentional Disciples; Mary, the Apostles
and Us"

1,2 & 3 Day Presentations
​
Advent & Lenten Missions
From the Manger, through the Chalice to the Cross, He came to give Himself for me....
The most powerful, thought provoking and inspirational presentations yet from Julie!
Based on John Chapter 6, Paul's Letter the the Corinthians and through the life of Mama Mary, we will explore the Eucharist and 'Who' we receive as never before!

With Music and Spoken Word I will focus on the teachings of the Eucharist beginning with the 'Fiat' of Mary as she heard and responded to God's invitation. Then in the Manger (Latin mandūcāre to chew, eat) we see the initial invitation to all of us to receive Him as Eucharist. From excerpts of Luke's Gospel and then John chapter 6 we will go deep into what it means to receive Jesus fully into our being. With music from the new CD "I Take You At Your Word" this is one of the most powerful, intimate and meaningful presentation yet! ~ Considering the Protestant phrase "Jesus is my Lord and Savior" I would like to engage Catholics to share with the world that the intimacy we experience in receiving Jesus Christ into our very person is the most personal relationship we can ever hope for.
He is both Savior and Sustenance, Lord and Lover of my soul.

The Lenten Mission is deeply focused in the Eucharist. It originated as I pondered Mary's face in the Pieta. She had heard Christ speak about dying but that on the third day he would rise. As she looked into his lifeless face she remembered his words. She teaches us that no matter what, we are to take her son as his word, just as she did. We will focus on the intimacy that we experience with Jesus Christ in the Eucharist. It will also encourage us to bear the sufferings we are allowed to experience surrounded by the grace we need to go through it with purpose. Perfect for Lent and Ordinary Time, the music is adjusted to fit each season. Absolutely Beautiful for all ages.



Click on the scrolling photo links below to learn more about:
Available presentations by Julie Carrick / Her Recorded Music / & Our Available Artists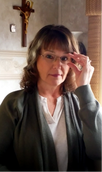 Some of Julie's Most Popular Event Titles:
​
"I Take You At Your Word" ~ With music from a brand new project completely focused in the Eucharist, this project shares my heart more than any other project I have done. To be so loved by our God and Savior that He would come to each of in the Catholic Faith so intimately in the Sacred Eucharist, Body, Blood, Soul and Divinity, our Living Christ, becoming one with us!. This is beyond words. The faith that He founded and that which He has sustained over these millennium continuing to be with us not only in word, but physically coming to us as we enter into the Paschal Mystery at Mass or simply spending time with Him in Eucharistic Adoration. Mother Mary taught us by her life's example to Take Him At His Word. Join me for this event of music and true life stories of grace, sustained, healed and cared for by His presence in the Holy Eucharist.

"Timeless Faith Armored In Grace" ~ As we consider the 500th anniversary of the reformation how can we as Catholics be inviting to our Protestant brothers and sisters and seek unification to the fullness of the Catholic Faith. (Why Catholic? Why are there so many other Religions? In a time with so many changes what is the constant in my life? What can I do, as a Catholic to share my Faith and be inviting? How does the Grace of the Sacraments sustain me, my family?)
Along with Julie Carrick, we will be exploring these questions and hearing the Truths of our Beautiful Catholic Faith and how we can each grow stronger in our Relationship with Christ and our Discipleship for Christ. This is a great opportunity to invite your family and friends who have wondered about your faith or who have wandered from the faith. A great welcome home. )
​
"Intentional Disciples; Mary, the Apostles & Us" ( A presentation inviting us to look at how we live our call to Discipleship by the example of Mother Mary, the Apostles, & in the grace received through the Sacraments.) Have you ever wondered how Mother Mary did it? She lived the call on her life perfectly. Then the first 12 who were called… What was it about them? Why did 1 turn away and the rest faced martyrdom for the sake of Christ? We are all called to discipleship but,
How can we say 'Yes' and have the strength to Live that 'Yes'? Through spoken word and beautiful music Julie will guide our Community through this event focused on the life of Mary, The lives of the first Apostles of Christ and practical ways of opening up the gifts of the Sacraments and learning how to live in the real and tangible grace that each of them pour into our daily life. This is a very unique presentation that goes beyond knowing that each of us is called to Discipleship. It is an event that teaches each of how we can begin immediately to actually live our daily life in every moment of every day as a Disciple of Jesus Christ.
​Once you experience this event you will never look at the Sacraments the same way again.
​
"Sipping on Grace" Mary teaches us by her example of Grace / Initiation of Grace in our life through the Sacraments of Baptism, Confirmation & Holy Eucharist and then Grace restored in the Sacraments of Anointing of the Sick, Reconciliation, And Grace revitalizes in the Sacraments of Marriage & Holy Orders. With Julie Carrick explores these Graces of our Beautiful Catholic Faith and how we can each grow stronger in our Relationship with Christ. This is a great opportunity to invite your family and friends who have wondered about the faith or your loved ones who may have wandered from the faith. A mercy filled welcome home. As with all of her presentations around the country, this will include Spoken Word, Music, as well as time for deep reflection for individuals, married couples and families. ALL are encouraged to attend

"Mercy Ordinary & Divine" ~ ( "Mercy" Music video is below) "Living the Corporal Works of Mercy" ~ "Divine Mercy in Ordinary Holiness" ~ "Divine Mercy" (the chaplet & novena in a single event) ~ "Mercy: Reconciliation & Eucharist"

Here are more presentations to choose from:
For all the Seasons Advent, Lent, Easter, Ordinary Time, etc.

"Living Our Creed" ( How we live what we say we believe in the Creed. God revealed as Creator & Savior. This presentation includes wonderful insights of St. Teresa of Avila.)

"Living the Mass" ( A description of the Mass and the invitation to take what we experience there into every moment of our life. It includes the invitation to live our life ready to come to Mass and fully participate.)

"Celebrating the Truth; Marriage, Life, Eucharist & Reconciliation" (We take a good look at how we are strengthened as family through these 4 pillars of our Catholic faith.)

Advent & Christmas Presentations:
"Divine Mercy from the Stable"
"A Home where Mercy lives"
"Mary; Mother of Mercy"
​
---
---
A Note From Julie: "The best way to describe my work / ministry is "Catechetical Artistry". There is an immense content to the teachings of the Catholic Faith that all draws one into the life of Christ. Through Music, Personal Witness and the Teachings of the Catholic Faith, the events I do around the world make the journey from the head to the heart a most enriching and personally meaningful one. It has been a joy to be involved in ministry within the Catholic Church my entire life. The music / concert / speaking ministry is the accomplishment of my life's work. Starting as a Liturgical Musician at a young age and then moving forward into this Concert & Speaking Ministry has been a life long process. The concerts, parish missions, conferences and other events that I offer are centered around the teachings of the Catholic faith and a powerful outward expression of what it means to live them.
I have written and recorded 10 CD/DVD projects and a songbook that is a compilation of these works. Being a Lung Cancer Survivor gives me a very unique perspective on how I put together the presentations I bring to communities around the world. I look forward to sharing this ministry in your community. ~ Julie"

About Her Ministry:
Having done events throughout 5 countries over the past 20+ years there is a refined beauty and very powerful presentation that goes beyond a common concert experience. Julie is not your typical recording artist. Her real life experiences are shared in her speaking & concert engagements, and formed into the lyric that are her songs. The events she has developed have been beneficial to thousands of Christians in their spiritual development. Her witness shares the real heart of a woman who has experienced some of the toughest things in life and because of her faith, has stayed the course with Christ. From dealing with serious struggles in marriage, losing 2 children through miscarriage, helping an adult daughter through a rape that resulted in pregnancy and most recently a Lung Cancer survivor, she knows what it means to 'live' her Catholic Faith. Though not always 'easy' her life has been blessed with grace when she has needed it most. Julie is passionate about Eucharist, Reconciliation, Marriage, Life, and Living in God's Grace. Her concerts, missions and other events where she has been asked to speak encourage people to step out of their comfort zone and truly live the teachings of The Church. She was born and raised in Northern Michigan, Julie Fran Edel, the fourth of seven children. Her desire to serve Christ began at an early age and stems back to her involvement in Liturgical Music, following in the footsteps of 3 generations of Catholic Musicians. She worked within the Diocese of Phoenix for 10 years as Director of Music prior to accepting the call to a national and international concert and speaking ministry. Julie is not your typical recording artist. Her real life experiences are shared in her speaking & concert engagements, and formed into the lyric that are her songs. Julie is married to Kurt Carrick, her husband of 30+ years. They have 3 adult children. They began their life together in Germany and after 5 years moved to Arizona. Julie's national concert ministry began in 1995. She has written and recorded 9 music CDs and a Rosary CD, in which she and Kurt pray together. Also 3 DVD projects; A Concert "Living The Mass", her concert "Living Our Catholic Creed" and "In The Waiting" a powerful Music CD and Meditation DVD. Her speaking engagements cover topics that encourage Catholics to Know & Live boldly their faith.
Some Career Highlights and Accolades:
2014 "Lend Me Your Heart" 16 Song music CD honoring Mama Mary!
Regularly heard on Immaculate Heart & Guadalupe Radio networks throughout the U.S.
2012 Julie Recorded "Living Our Catholic Creed" DVD and accompanying Soundtrack CD
2011 Julie Released: "Living The Mass" DVD / 4 Album Compilation Songbook / "In The Waiting" CD/DVD set & She and Kurt re-mastered A Couple's Rosary CD with a full soundtrack song for each decade.
2011 Julie presented approximately 70 concerts & parish missions and sang at over 100 Masses in 17 States.
2011 Phoenix Catholic Women's Conference
2005-2012 Summer Tour of 10-15 States (Averaging 65 Events in 90 days plus being guest musician at weekend Masses)
2010 Oklahoma Catholic Women's Conference
2010 Phoenix Diocesan Marriage Day
Jubilee Year Concert Tour in the Holy Lands
First Catholic Woman to be the featured speaker on TBN Northwest
Appearances on EWTN, Boston Catholic TV, Fox 10 TV, KTVK Television Phoenix, and others
Her music is regularly played on Catholic and other Christian stations across the U.S. and Europe
UCMVA Spoken Word Recording of the Year 2006
United Catholic Music & Video Association's Artist of the Year 2004,
Additionally, 9 Awards for her participation in the 9/11 Project 'You Are Not Alone'
A Special visit to sing for our troops wounded in Iraq in Landstuhl Germany 2004
World Youth Day Events 2005 Germany (Youth Arise International)
A.I.R.A. (Academy of Independent Recording Artists) awarded Julie the Honor of:
1997 Single of the Year & Female Vocalist of the Year
1987 Awarded the Army Meritorious Service Award / 3rd Infantry Division Wuerzburg Germany
1985 Received the Outstanding Civilian Service Award / 123rd Signal Battalion Wuerzburg Germany