Welcome to Gathered In Grace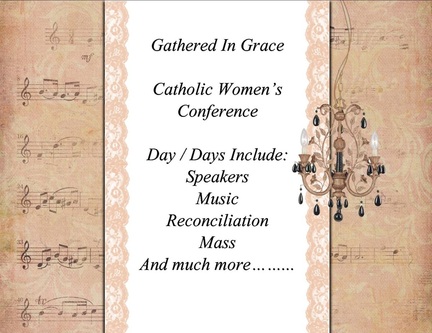 'Gathered In Grace' began with the desire to have a Catholic Women's Conference in the Diocese of Phoenix, AZ. Julie Carrick, Catholic Recording Artist, was invited to a Protestant gathering for women and brought forward the question, "Why don't we have a event that allows Catholic women to be fed fully including Eucharist, Our Blessed Mother and the fullness of our faith?" The response was overwhelming and immediate! Yes! Drawing together women of the Catholic faith was the easy part because the hunger for the truth is always there. The work was finding the speakers, planning a day that would fill women's hearts, writing the theme song appropriate for women of all ages, all within a timeline and budget that was efficient and affordable. Completing this in such a successful way made us realize we can now share this with our Catholic sisters around the country. We offer "Gathered In Grace" a Catholic Women's Conference, ready to come to you!
---
Julie Carrick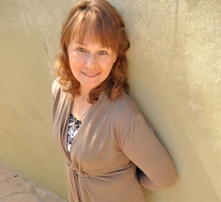 Julie Carrick ~ Recording Artist, Speaker, Cancer Survivor
Co-Founder of: Carrick Ministries Foundation, Inc.

With equal passion through her beautiful music & vibrant faith-filled speaking, Julie shares how all are called to live the fullness of the Catholic faith. She bravely shares what it means to be a Catholic wife, mother, cancer survivor and woman of faith in this day and age.

Presentations Available:
A Life of Faith / Grace, Hope & Healing / Celebrating the Truth
Living Tabernacles! / Growing in Grace through Suffering
In The Waiting / Living he Mass / Temple Maintenance / Grace Restored
A Marriage on The Edge / Living Our Catholic Creed / ala carte'
---
Leighton Drake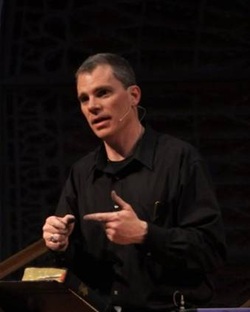 Leighton Drake
~
Motivational & Inspirational Speaker / Artist
Founder of: Drawn to Life Ministries
Leighton Drake of Drawn to Life Ministries is a lay evangelizer and dynamic motivational speaker, bringing the Gospel message of God's love to people of all ages through his ministry of word and art.
He serves as the Director of Faith Formation for a parish in Carmel, IN and has extensive ministry experience working with families, children, youth, incarcerated young men, and adults.
Available Presentations:
Drawn to Life Through Family Faith
Becoming God's Work of Art
Behold Thy Mother
---
Conference Details:
If you would like to have this Catholic Women's Conference in your diocese and would like to have us bring it in for you we will take on the expense and management of it. We can manage even the ticket sales through Gathered In Grace. We only need to receive the invitation and we will work with the diocese to schedule the date and begin to invite the women to come. If you would like to have the event as part of ongoing Catholic Women's events the price list for the Turn Key event is listed below along with your options. Either way, we make is simple, complete and affordable.

This 'Turn-Key' event provides:
Your choice of Theme
2 Presenters - Julie Carrick (Music) plus an additional presenter
Music tailored for the entire day (Including Inspirational, P&W and Liturgical for Mass)
The Outline, Guideline and "How To" manual to plan your conference.
Promotional Material Templates
* These are designed in pdf format print ready for your local printer. OR
* We can send printed material to you for a very reasonable cost.
Radio PSA (Public Service Announcement) Ready for Broadcast

What you should expect to provide:
A parish center / hall / auditorium for the conference.
* Auditorium Style or Table & Chair Setting
* Audio/Visual System needs to be in the facility for the event.
Simple Beverages: Water, Tea, Coffee, Punch
A local caterer for 'Continental Breakfast' and Lunch.
* Breakfast should be simple: fruit, bagels, donut, etc.
* We suggest box lunches for best price, ease of serving & fewer facility needs.
* Keep in mind chain restaurants like Chik-Fil-A, Subway, & local grocery store deli.
Local Priest for Mass ( Additional priests if you choose to have the Sacrament of Reconciliation)
Area for vendors at the conference. (These spaces should be charged a fee to offset any facility rental
costs & provide some revenue.)

Event Prices
2 Presenters for a 1 to 2 day event. $3000-$4500 (This has them arriving the night before the conference to meet with your local team.)
2-3 Round Trip Airline Tickets ( Presenters travel mainly from Phoenix, AZ and Indianoplis, IN
Lodging for the Presenters - ( Hotel near the conference venue )

What some attendees have to say.....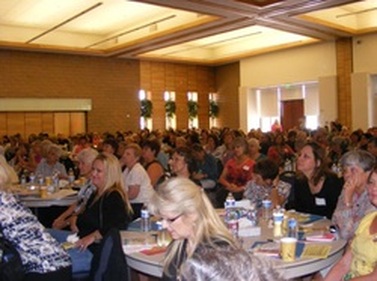 What did you like most about the event?
Spiritual affect it had on me with the Lord.
· Julie's singing.
· Talent. Fellowship.
· Artwork and music.
· Julie & Leighton
· Talks.
· Coming together with my sisters in Christ.
· Drawing and singing times.
· All aspects were very good.
· It was about women and their Catholic faith.
· I liked everything. · Hope and healing.
· Speakers / presenters were wonderful!
· Topics and sharing. · The music
· Positive-ness and the sharing.
· Personal testimonies / singing.
· Fellowship with others. · Program. · Liked all of it.
· Singing and drawing; but each message was strong so I loved those sessions as well.
· All of it. · Sharing of "gifts." · Artwork, the stories of the presenters.
· It was awesome! Leighton is on fire for God—awesome! Julie's smile, words of faith and songs.

What insights did you gain from this event?
· It taught me that every family has good times and difficult times but you are still family.
· I am not Catholic and the regard given to Mary was very enlightening.
· God thirsts for a relationship with us. · Mary! · Healing, deeper understanding of God's grace.
· Too many to write! · To live every day for the Lord. · The need to sip on grace constantly.
· In constant need of grace at all times. · We need grace in our life at all times.
· How to open up my heart to God and receive his grace. · We all have suffering and grace too.
· The value and availability of relationship with Mary. · Closeness to God, other women in the area.
· Everyone has a story of faith unique to them. · Presence of Jesus in our lives.
· My purpose in life: to love, to live for and serve God; salvation. · Grace of Mary.
· To be a catalyst for someone else's spiritual journey. · Learned more about Mary.
· God is always with you. · You can experience God's grace in everyday activities (like housework!).
· Enrichment of soul! · I believe we were all blessed by being able to attend; we "gathered in grace."


---
Other Speaker Available for Gathered In Grace
Elizabeth Ficocelli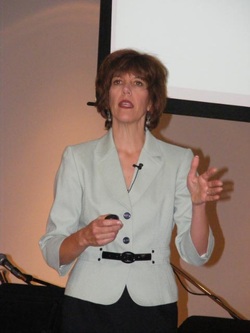 Available Presentations:

"Handing on the Faith: A Family Approach to the Seven Sacraments"
"Bleeding Hands, Weeping Stone True Stories of Divine Wonders, Miracles, and Messages"
"Lourdes: 150 Years of Hope and Healing for a Hurting World"
"Medjugorje: A Heavenly Plan for Peace"
"Helping Kids Develop a Personal Relationship with Jesus"
"Divine Mercy Made Ours"
"The Joy of Reconciliation"
"The Age of Mary"
"Avoiding Mass Hysteria: Teaching Children How to Behave in Church"
"Six Ways to Keep the Advent Season Holy"
"A Journey in Grace: My Conversion Story"

---