"I Take You At Your Word"
15 Beautiful songs about our Precious Lord Jesus Christ in the Eucharist. New songs as well as timeless favorites.

Come Thou Font
Count Me Blessed
I Take You At Your Word
What Kind of Thone Have I Prepared

What Wondrous Love/O Come & Mourn
Only A Shadow / Adoration
Can My Heart Conceive / Fully Yours
When I Survey the Wondrous Cross
How Good You Are God / Our Roads Lead Home
Give Glory to God in All Things
Eucharist Medley / Victory In Christ

---

"Lend Me Your Heart"
16 Songs Honoring the Woman chosen by God.
9 NEW Marian Songs! New Marian Music...
Inspired by "33 Days to Morning Glory" Fr. Gaitley
​
​Lend Me Your Heart
Ave Maria (As I kneel)
The Center of His Heart
Sing of Mary ~ Heart of Jesus
Woman of Sorrow, Woman of Joy
Held Within Your Heart / From Mother to Mother
Bring Flowers of the Rarest / Undo the Knots
As The Deer / On This Day, O Beautiful Mother
I Thirst For You / Heart to Heart
Ave Maria (Schubert) / The Lord's Prayer
Mother, In the Order of Grace

---
The Bridge - Compilation CD
This album invites us all to acknowledge our sin, and realize the power of Forgiveness and the Mercy of Jesus.


Apple to Eve
The Bridge
At That First Eucharist
Anima Christi
Let Go & Let God
Mercy / Speak to Me
Whispers / Be Still
These Very Stones
It's A God Thing
​Maleita's Song
Let the Dance Begin How Could I Ask For More?
Panis Angelicus Amazing Grace (O Waly Waly)

---
The Face of God Collection - CD
This CD was re-mastered with new songs in 2013!
It invites us to find the Face of God in His beautiful
Eucharistic presence, and in those we are allowed to
meet and journey with in this world. 16 Amazing Songs!

The Face of God
Adoration
How Great Thou Art
Free Will / Kateri
Where Are You
Congratulations
Other Things
Ordinary Holiness
My Baby
A Mother's Love
O Sanctissima
Every Season / Glory to The Lamb
Mother Earth the Father's Gift
All Hail the Power of Jesus' Name / Glory to The Name

---
Shades of Grace - CD
14 Songs each with a specific focus on how we
receive God's grace. Sacraments, Daily Life, Prayer.

Grace
Hold Me Jesus
Shades of Grace
Help Thou My Unbelief
Eucharistic Grace
Hands of the Priest
The Wedding Song
Baptism Prayer
Isn't It Amazing
Breath of God Amazing Grace
Mother of Grace / Take Lord, Receive
Gathered In Grace

---
In The Waiting - CD
For all who have been 'touched' by cancer.
This CD is filled with music to encourage, inspire
and honor all those who are 'touched' by
​cancer or other large life events.

In The Waiting
Red Wine
I Heard the Voice of Jesus Let It Be
Psalm 91
Strength For the Journey
Hold Me Jesus
Jesus Heal Us
Beautiful
When I Am Released
Lord of All Hopefulness / I Can Only Imagine

---
2 CD Set! 2 CDs for the price of 1 $15.00
Couple's Rosary
​This CD will help you pray and the songs will
open your heart to our Mother's love for you that
ultimately brings us to her Son. As Kurt and Julie lead
the Rosary, the subtle music in the background
will assist in contemplating each mystery.
​The Beginning Prayers
The Joyful Mysteries
The Luminous Mysteries
The Sorrowful Mysteries
The Glorious Mysteries
Concluding Prayers
The Family Prayer
Trust Him Prayer
Prayer of Blessing St. Michael Prayer
Songs: Ave Maria (Bach/Gounod) / Mother Of Grace

& A Rosary For America!
This powerful and beautiful CD was inspired by Toya Hall of the Guadalupe Radio Network as she prayed in the Adoration Chapel. 50 States....50 Hail Marys on each of the beautiful mysteries prayed and all for our country and those who live here. This is being sold as a 2 CD set. Each CD is a complete 20 decade Rosary. Our original rosary that Kurt and I lead and the 2nd disc is the new recording naming every single state by name in prayer!!! ORDER YOURS NOW!!!!



Thank you to PodSnack for the mp3 Players on our site!

​Julie Carrick Songbook


This songbook is packed full of the songs Julie wrote for each of her recordings. From the very first one, 'Kateri' and all the subsequent projects the songs, which tell of her journey to and with Christ, fill this book. The book also features a photographic biography! It is scored for Piano ~ vocal melody line, Guitar & Lyric.
42 Songs





---
Living Our Catholic Creed & Living The Mass - DVD 2 Disc Set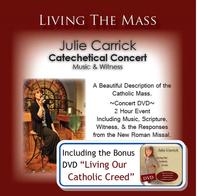 This Life giving explanation of The Creed is a great way to share our Catholic Faith. The DVD is the entire Catechetical concert.

2 Hour Catechetical Concert ~ Music, Scripture, Witness & the people's responses from the New Missal! This is the Ordinary Time Version. A beautiful way to share the Liturgy of the Catholic Faith. The DVD is the entire concert.
---